Let me introduce myself. I'm Howard, an ageing Christian priest, recently retired, whose lived and worked in Oldham most of his life, got to know a lot of people, including some local Muslims and done interesting stuff with them.
I have a local Muslim friend who just loves food. I can't imagine him not eating. I won't reveal his name. The clue might be that his wife has just given birth to a baby boy. I say no more.  He's a mischief-maker, but he's also a good and holy man.  And for sure, he'll be observing Ramadan this month as he should.
I have to admit that I love food as well. Where I'm living, I'm just round the corner from the chippy. I spend my days dreaming of rag pudding, chips and peas with gravy. When I am on my own I have no doubt I'd be going round there every night, always asking for the same thing! I'm saved from that by my wife who makes sure I eat more healthily. But could I match my Muslim friend and observe the fast for a month? I doubt it!
When I come to think about it, I realise that the first Muslim friend I made in Oldham-back in the 1980s-was Khadijah, a young woman, recently arrived in town, who was working at the local playgroup. At that time her English and her knowledge of the Oldham scene weren't great, so I was able to help her along. We got on well and talked about our religious faiths. We even got together to put on an interfaith event for parents and children. What I remember is that we had singing and plenty of food!  And I remember even more that she used to invite my wife and I along for a good curry whenever 'Eid' appeared on the calendar. As a matter of fact, she's done that now and again ever since. I must make sure that it happens this year!
And I have to confess, no that's wrong, I'm proud to announce, that on one or two occasions Khadijah persuaded me to attempt to fast during Ramadan and for a number of days I succeeded. And I happily acknowledge that this did me good, both physically and spiritually! But I must say two other things. First, I succeeded in the middle of winter when the hours of daylight were at their shortest and this is in the North of England! And, second, I haven't kept it up. I've fasted the odd day since, but the truth is that for a year or two I haven't fasted at all in the holy month of Ramadan, even for one single day.
But this year I'm certainly up for it at least for one single day! After all, this is going to be in the middle of summer, which should help!  And, to be serious for a moment, I know that it is definitely good for my soul, indeed for all our souls!
What does the Qur'an ask of people? That they should be '…giving food upon a day of hunger to an orphan near of kin or a needy person in misery'…(Sura XC  The Land) : so I take it that having in mind the needs of others is part of what Ramadan is all about. And no question doing that and acting upon it is something I ought to be getting on with.
So bring on that day! The day when I stop thinking about myself and think about the needs of others and do something about them!  I look forward to it. The day when I am sharing Ramadan, sharing it with Muslim friends and being reminded by them of some of the things that are most important in life.
Howard Sutcliffe
The photograph shows myself and three friends-Mufti Helal, Fazal Rahim, and Shamim Miah. It was taken by a fourth friend,  Father Phil Sumner, very recently. We were having a day together in the Lake District. We were there as members of the InterFaith Forum, enjoying each other's company, and I have been a member of the Forum from its very beginning after the Riots of 2001.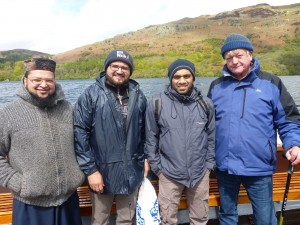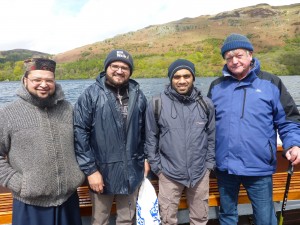 I'm an Oldham born person who went to university but was happy to come back up North and live my life in my home town. I first came back as a history teacher (at Blue Coat).  Since 1980 I've been a Christian parish priest in Hathershaw and, more recently, in Saddleworth.  In between I was a community worker in Werneth and Freehold and had a short spell working with Voluntary Action Oldham. I also had eight years in the 1990s as a local (Labour) Councillor. I am happily married to Truda: we have two sets of twins and one in the middle! And by now at least nine grandchildren.
I've got to know a lot of people, and done a lot of interesting and rewarding things with them from running a Sunday League football team to visiting Aushwitz and Srebrenica.  I send my best wishes to those who may be reading this. I think Share Ramadan is a great idea and I hope it takes off!
Disclaimer
The views expressed in this blog are those of their respective authors and do not necessarily reflect those of Share Ramadan.